Outdoor House Lighting Ideas For A Stylish Exterior
Choosing the right outdoor house lighting ideas can affect the vibe of any home, transforming your garden into a stylish outdoor space. From striking spotlights to traditional bronze wall lamps, there are designs to suit every taste and show off your garden's best features.
In this article, we'll explore how to create the perfect ambience through different outdoor lighting options.
Statement Outdoor Lighting Options
Wall-mounted lamps are fabulous for illuminating your garden as the sun sets. Whether you want to frame doorways, brighten a window, or highlight your favourite area of the garden, they come in handy for just about everything.
It's simple to match your personal taste, as you can choose from sleek modern styles to the rustic charm of aged brass lanterns. Up/down lights are an increasingly popular choice, providing a delicate glimmer of light that doesn't overwhelm a space.
While a few strategically placed lamps create a soft ambience, try filling one section of your garden with lots of lights to add some drama. A seating area is a great place for this, especially if you've got a pergola, parasol, or other structure to act as a focal point.
Use a mixture of whatever you enjoy most, combining anything from table lamps and decorative lights to pendants and lanterns. It creates a magical spot to enjoy evenings all year round, even if you do have to snuggle under a blanket at times!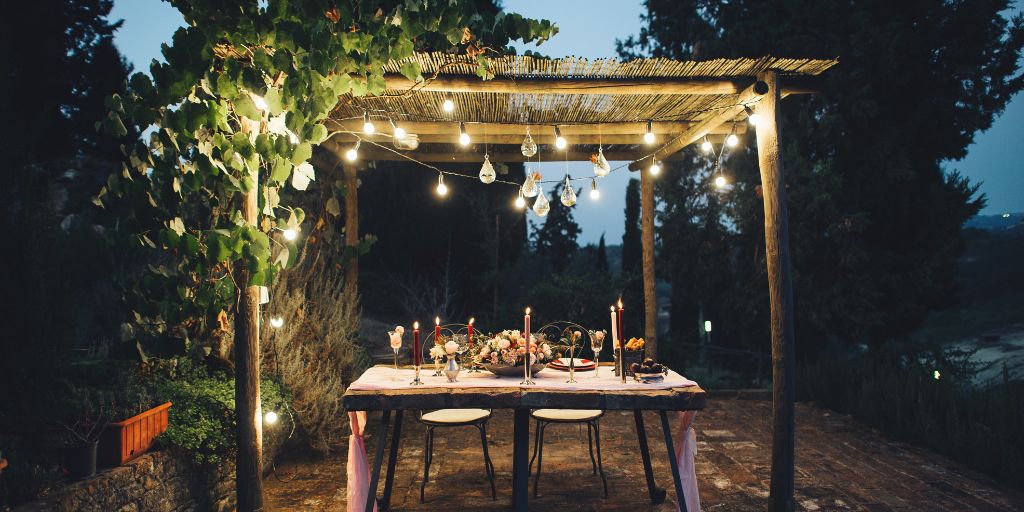 Get Creative With Outdoor House Lighting Ideas
There are a few other tricks you can try to make the most of your outdoor space. If you prefer a natural feel to your garden, there are some crafty ways to incorporate lighting in a more discreet way.
A simple hack is to leave the back door open on warm summer evenings, letting the rosy glow of kitchen lights mingle with your garden lamps. Adding a chic string of festoon bulbs or fairy lights blends the areas while adding a touch of style.
When the evening turns chilly but the party's in full swing, take inspiration from our range of table and floor lights to seamlessly move your festivities inside without compromising on the chilled vibes.
Solar Lights
Solar lights are one of the best outdoor lighting options for anyone conscious of their energy usage. Simply pop them where you want a boost of light and leave the sun to do the rest. There's no need for unsightly wires or costly mains electrics with these. And with such a range of lights available, there's something for every decor.
If you're lacking sunshine but are keen to keep costs down, LED lighting is another economical choice. The super-efficient bulbs cost less to run than older types while still casting a delightful golden glow.
Choosing Your Outdoor Lights
Your preferred way to light your outdoor space depends entirely on your overall garden scheme. At IOS Lighting, we've got a vast selection of outdoor house lighting ideas to bring your designs to life. Pop into our showroom for inspiration, or contact us to talk through any questions.