Unconventional Pendant Lighting Ideas
We've compiled a list of our favourite unconventional pendant lighting ideas to celebrate the fact they're making somewhat of a comeback. Pendants are versatile, decorative and can add a touch of drama to any room, ensuring they are once again a staple in every home.
Pendant lights have come a long way over the years and are no longer just a single bulb inside a glass globe. Instead, you now find them in coppers, golds, lanterns, multiple bulbs, circular halo designs or good old rustic pendant lights. With such an array available, we're breaking down how you can display them in your home.
Where Can I Install my Pendant Lighting Ideas?
With pendant lights hanging lower than many other types of lighting, people are often at a loss for where to hang them. Let's look at how you can make the most of your space.
Kitchens
There are dozens of amazing pendant lighting ideas for kitchens, especially over much-loved islands. With the space for a dramatic light installation, you can make it the focal point of the room, turning a functional space into a creative statement.
It casts a rosy glow over your island, making it both practical and beautiful. Best of all? You don't need to worry about people bumping their heads if you want low-hanging designs.
Dining Rooms
Dining rooms are another place you can go to town with your choice of pendant lights. Highlight a statement table and chairs by installing your lights directly over them. From single bulbs in smokey glass cages to a 12-piece chrome set, you can transform the feel of your dining room in an instant.
At IOS Lighting, we're pleased to offer many of our beautiful pendant lights in our sale to help you create your perfect home for an even more affordable price.
Entrance Halls and Foyers
Entrance halls in homes, offices, hotel foyers and shops are the perfect places for larger pendant lighting ideas. As the spaces often extend upwards, covering multiple floors, you can opt for lights with a much longer drop than you could elsewhere. A stylish pendant light is the perfect way to fill the space and cast an inviting light.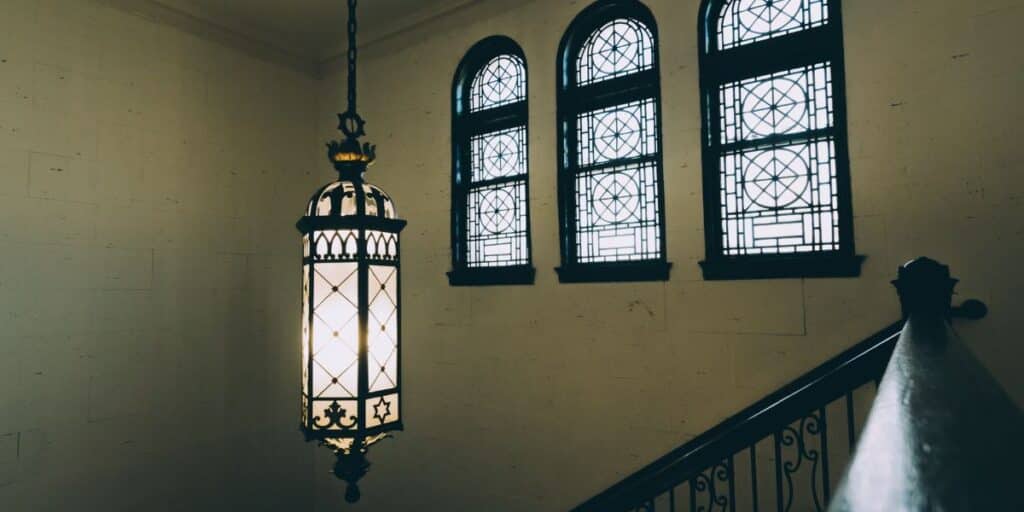 Our Top 3 Tips for Your Home
Now you know more about the best places for your pendant lights, here are our top 3 tips for your home to give you the perfect installation every time.
Blend Rustic Pendant Lights with Modern Decor
Shabby chic is a timeless trend, so why not combine it with your pendant lighting ideas? Our Greypants range consists of a series of beautiful rustic pendant lights in varying natural hues. Mixing these elegant shades with striking paint and design schemes is an effective way to install on-trend pendant lights.
Make the Most of Plug Space
Having multiple single drop pendants is very on trend right now, but it can require a lot of plug space. Opt for a multiple drop unit to enjoy the same boost of light without having to compromise on electrical outlet space.
Utilise Different Heights
Height is one of the biggest factors to consider when choosing a pendant light fitting. If you've got tall people living in your home, make sure they've got enough clearance space. If you don't want to place your pendants over kitchen islands or dining tables, get creative with where else you have the space.
Rather than using a standing lamp for a reading corner, why not use a pendant to bring the light source closer to you? It's a great alternative to a lamp taking up floor space. They're fabulous for highlighting nooks and crannies, but a central position is also a winner for lighting an entire room.
The Summary
At IOS Lighting, we stock a selection of lights from various brands to bring you the very best in pendant lighting ideas. Contact us today to place your order or for any questions about our products.