The Four Best Large Living Room Lighting Ideas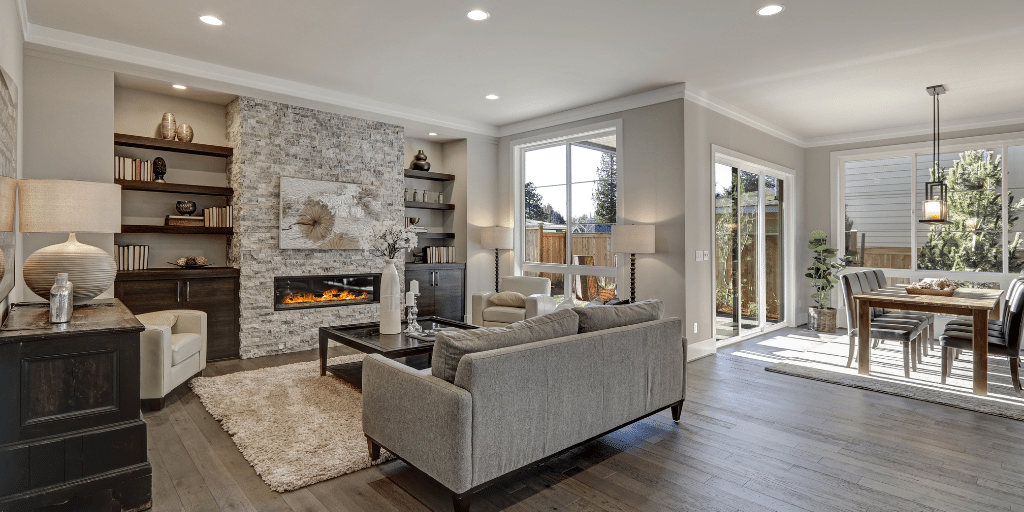 When it comes to large living room lighting ideas, thorough consideration is vital. The layout of your room, the furniture inside it, and the positioning of your windows will all affect the modern living room lighting ideas which will work for your room. Fortunately, as the experts in lighting, we have a few suggestions which will help you to effectively decide on your living room lighting. 
The key to lighting a large living room is variety. A single pendant light in the middle of the room won't reach every corner of your room, and a series of recessed lights won't provide you with the cosy feeling you look for in a living room. Thus, employing many types of lighting is the best thing you can do for your room. Below, we will cover the different types of lighting for large living rooms which will not only illuminate the space but also provide a comfortable and cosy feeling.
Pendant Lights
Pendant lighting is one of many great large living room lighting ideas, as they help to illuminate a central point in the room such as a table or the main sofa area. The only issue with pendant lighting is that their efficiency is dependent on the height of the ceiling, as the transmission of light can be interrupted if the ceiling is too low. Thus, pendant lighting is best placed in a living room with a high ceiling. 
Wall Lighting
These little beacons of light are perfect modern living room lighting ideas, as they add another element to the room in the form of soft and subtle glows which add an extra level of depth to your walls. Wall lighting is becoming a firm favourite of designers for its variety of styles which can go against the general lighting scheme of the room while still complimenting it. The specific light you choose will affect the efficiency of its location in the room, so it is integral to consider this when it comes to light placement.
LEDs
When it comes to large living room lighting ideas, LEDs are an amazing solution. These lights are incredibly energy efficient and can help illuminate entire rooms without requiring much electricity. They're great at emitting large amounts of light without producing too much heat and are suitable for placement anywhere in your living room. They're also great as modern living room lighting ideas, as they can be set to various colours which can change the mood of your room entirely.
Table Lamps
Although table lamps emit less light than those placed on the ceiling, they do wonders for the mood of the room. They can softly illuminate any given corner of the room and add an ambiance to the living room which wasn't present previously. If you're looking for modern living room lighting ideas, table lamps are a great solution.
IOS Lighting
Here at IOS Lighting, we can provide you with all the large living room lighting ideas you need to revamp your living room and achieve the look you want. We have every type of light and lamp available on our website and in-store to offer a wide range of choices and ensure you don't just settle for the next best thing. Browse our range today and call us to order your new living room light!