How To Clean Room Light Fittings
You may think that to clean room light fittings, all you need to do is brush a duster over them. You may think the fixture doesn't look as dusty as it did, and nobody will look up there anyway, so no further cleaning is required. Unfortunately, this method is possibly one of the least effective methods of cleaning light fittings.
You've probably forgotten how sparkly, and new your light fitting looked when you first had it installed, which is why the way you're cleaning light fittings isn't as thorough as it should be. This article will give you some tips on how to clean room light fittings.
Understand that some cleaning solutions aren't compatible with certain light fittings
There are a couple things to consider before you even start getting to work. The first thing is that some cleaning products won't be compatible with the material your light fitting is made from. Using the wrong cleaning products can result in dull, weakened material, and an overall worsened condition of your light fitting. The worst thing is investing in a high quality light fitting and squandering the quality because of uninformed cleaning methods.
Which cleaning products to use on certain materials
The general rule is that warm water and non-abrasive cleaning products will do the trick. But there are a couple of steps individual to each type of fitting. It must be noted that before attempting to clean any of your light fittings, you should give the bulbs time to cool and then wipe away any dust with a microfibre cloth.
When cleaning light fittings made of chrome, the most effective method to restore the fitting to its former glory is to create a white vinegar and water solution. White vinegar is extremely effective in dissolving grime because 5% of its ingredients is acetic acid, which breaks down dirt easily. Three parts water and one part vinegar is the best ratio for the job.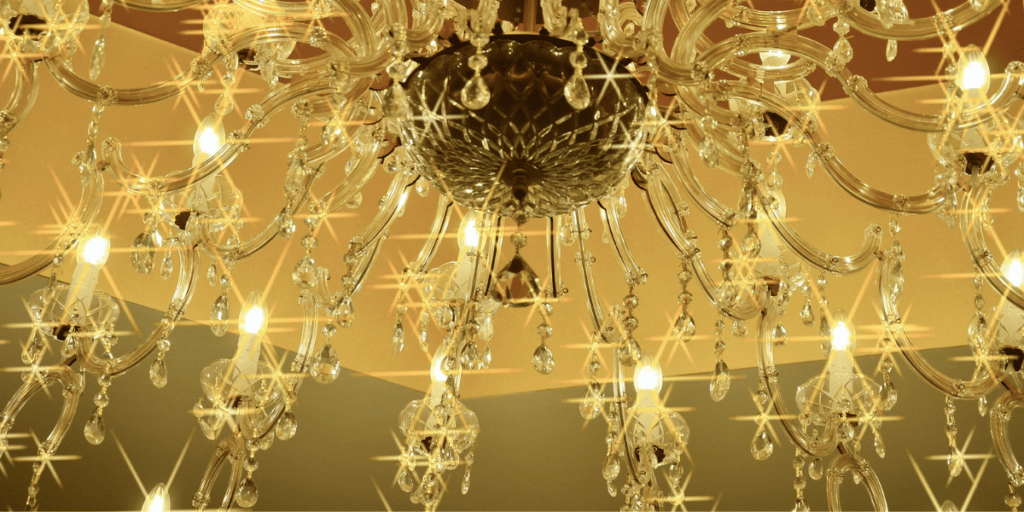 To clean room light fittings made of glass, you can use the aforementioned vinegar and water solution. But, if you find that the dirt on your light fitting is particularly persistent, dismantling the fixture, and soaking the glass in warm soapy water for 10 minutes should help to lift the dirt right off.
It is not advised that you use vinegar when cleaning light fittings made of metal. This is because vinegar rapidly increases the rate of rusting due to the acetic acid in the solution. The best way to clean room light fittings made of metal is to use a combination of gentle soap and warm water. The temperature of the water will lift the dirt, and the soap will combat it.
If you have dust on your fabric light fitting that you're trying to clean, a lint roller will be your best friend. This is possibly the easiest way of getting rid of dust from smooth lampshades. Textured ones will probably be best cleaned using a hoover!
Warm water and soap are all you need to clean your plastic lampshade efficiently. Due to the texture of the plastic, it is unlikely that any dirt will be permanently stuck there, and plastic doesn't degrade as metal does. So, you don't need any particularly heavy-duty cleaners to clean room light fittings made of plastic.
What can we do for you?
Here at IOS Lighting, we have an array of light fittings available made from different materials for each room of your house. Whether you're looking for a glass chandelier for your kitchen, or metallic outdoor lanterns, we have everything you could need. And now, you know the best way to clean each of them too!