Adding Character to Your Bathroom: Bathroom Lighting Ideas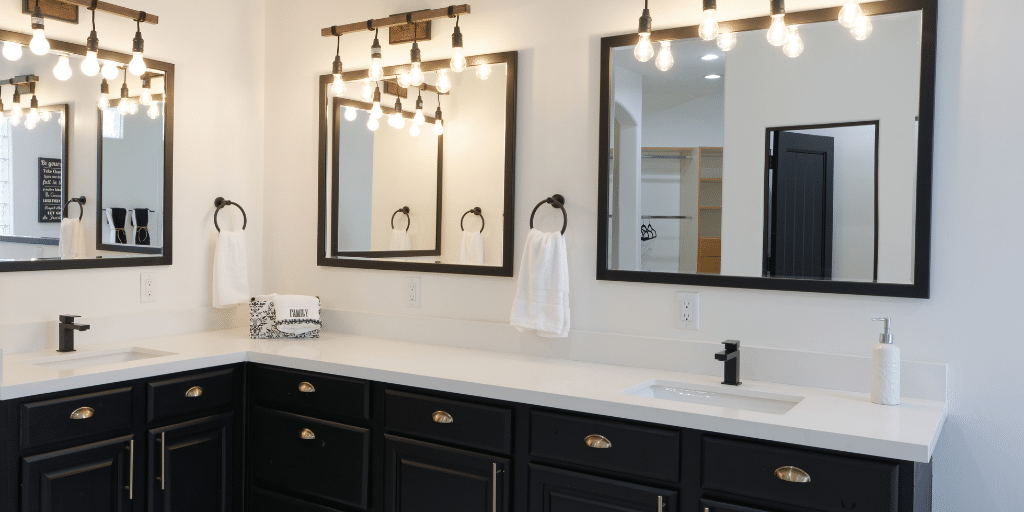 Are you planning a bathroom makeover? If so, you need to pay careful attention to your bathroom lighting ideas. Before you start deliberating between spotlights and chandeliers; wall lights and mirror lights, and everything in between, you need to consider the space you are working with. 
Things to Consider When Looking at Bathroom Lighting Ideas
What do you use your bathroom for? Is it purely functional? Is it a sanctuary, or is it a hair and makeup haven?
How big is the space? Is it the main bathroom? Is it a compact ensuite?
Do you have natural lighting? Are the ceilings low?
What is the colour scheme you are working with?
Do you want a decorative or minimalist look? Traditional or bang on trend?
When you have the answer to these questions, you will have a much clearer idea of what will work for you.
Here's a Bit of Inspiration For Your Bathroom Lighting Ideas.
Small Spaces
Working with a limited space but want to bring light to the room? Recessed lights, spot lights and strip lighting under your cabinets will do the trick. If you need natural light to perfect your make-up routine, consider a bathroom mirror light.
On the other hand, bathroom wall lights, strategically placed either side of a mirror, will double as a focal point in a smaller space.
Low Ceilings
A low ceiling has the potential to make a room feel claustrophobic. Without the right lighting scheme it can present as an unwelcoming space. Get the lighting right however, and you have a contemporary, compact closet.  
Bathroom mirror lights, recessed lighting or a feature lit wall are ideal if you want to make the most of a room with a low ceiling.
Darker spaces / No windows
Many interior designers embrace the dark side, when it comes to rooms with little natural light. You can really go to town and create an air of glamour and mystique by using dark tones and accents to decorate the room.
The addition of metallic light fittings or unique, quirky one-offs can make the lack of natural light work in your favour. Bathroom wall lights work really well here. By making the lighting the main focal point you will detract from the lack of natural light in the room.
Consider the theme
A large, opulent, spa-like bathroom will require a different decorative scheme from a small but serviceable en-suite. You can really go to town with oversized chandeliers, or a separate lighting scheme to highlight the freestanding bath or the futuristic shower.
Alternatively you can keep the lighting simple if you want to create clean lines for a zen inducing zone.
There are plenty of bathroom lighting ideas for the smallest (or not so) room in the house. Don't be tempted to overlook the importance of getting the lighting scheme right in your bathroom; be it big, small, light or dark. Lighting can transform a room and make it more inviting, relaxing and reflective of your lifestyle and personality.
Talk to one of our experts who can guide you through the process and work with you to create the perfect lighting for the bathroom of your dreams.