A Guide: Everything You Need To Know About Changing A Lightbulb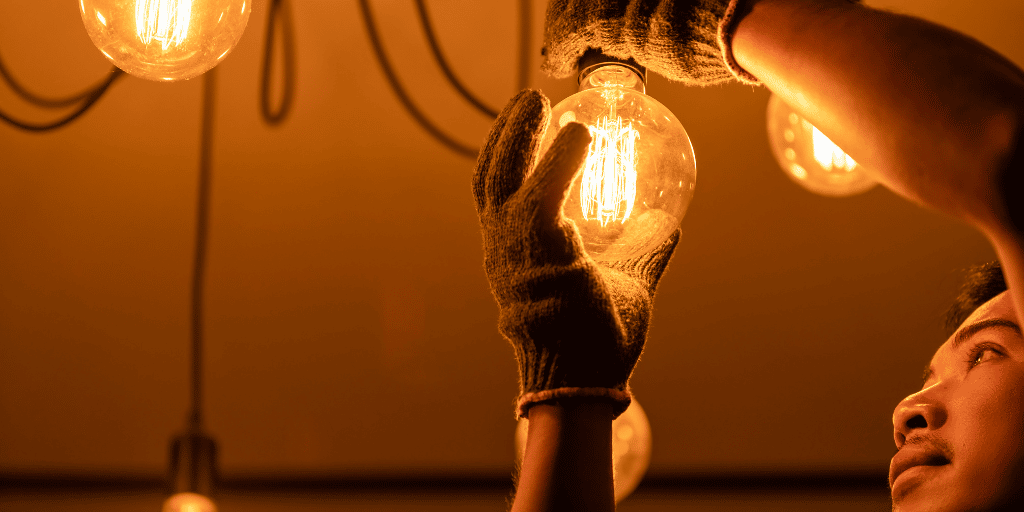 Have you realised that you don't know the first thing about changing a lightbulb? Not to worry, we at IOS Lighting have compiled a list of tips and tricks to point you in the right direction. Although changing a lightbulb is relatively easy, you should consider a few things first, including safety, light bulb wattage, and the difference between ordinary and IP-rated bulbs.
Safety
The first thing you should do before going near your busted bulb is to switch off the mains power source.
Turn off the mains power source
You may have seen someone changing a lightbulb without taking the time to turn off the mains power source, and whilst it isn't inherently dangerous to skip this step, it's better to be on the safe side. You eliminate the risk of encountering a live wire that may still be active by turning off the main power source. This is a real possibility if you suspect a wiring problem somewhere in your building. So you should definitely take this extra precaution.
Allow time for the lightbulb to cool
Light bulbs can become incredibly hot. Incandescent bulbs encased in glass will generate more heat than LEDs, which is why they're considered energy-inefficient. Simply hovering your hand around the bulb will indicate whether it is still too hot to touch and that you should grant it more time to cool.
Remove the broken bulb gently
Due to bulbs being made of glass, they are incredibly fragile. This is why they're designed to be easily removable. But sometimes, this isn't the case. If the previous bulb has been forced into the socket, you risk cutting yourself by exerting excessive pressure on the bulb to remove it. To prevent avoidable cuts, we recommend using thick gloves to remove the bulb if you notice any difficulty.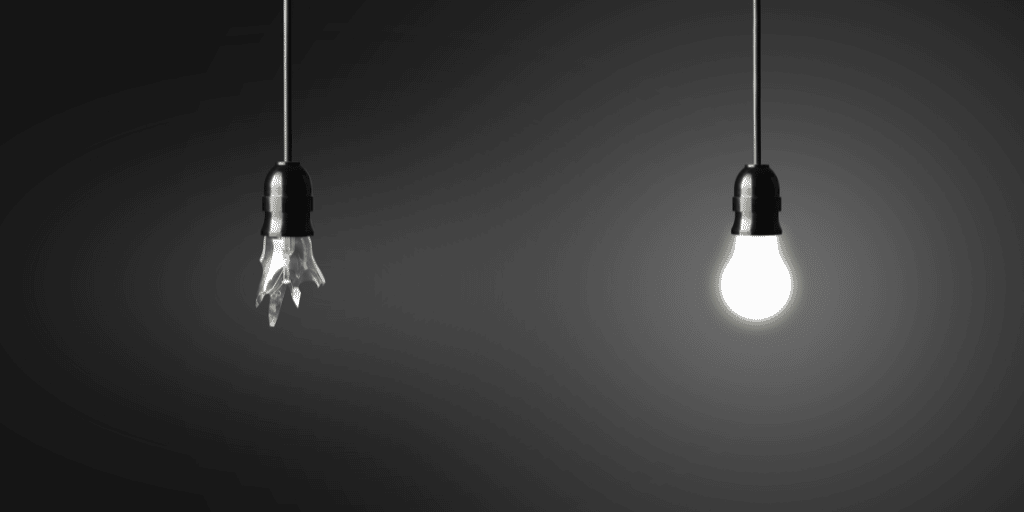 Wattage
Now that you know how to stay safe while changing a lightbulb, you need to be aware of wattage and the consequences mismatching can have. A light bulb wattage is a unit of measurement that indicates the energy consumption of a lightbulb each hour.
Replacing a broken bulb with a new lightbulb that has the wrong wattage measurement can lead to the bulb overheating. This can have a direct effect on the socket and the insulation of the wires. Overheating light bulbs can result in melted components and even fires, so it is important to get it right.
Fortunately, the wattage of a light bulb is always printed on its surface, so it isn't hard to find out which type of lightbulb you need and whether you've bought the right one.
IP Rated Bulbs
IP rated bulbs refer to the level of protection your lights receive against water exposure, including direct splashes, condensation, and submersion. Standard indoor lights have an IP rating of 22 because they're unlikely to encounter any water. But lightbulbs in your bathroom have particular requirements that they should adhere to keep you safe and your bulbs working. Different zones in your bathroom indicate how high the IP level of your IP rated bulbs should be. But the basic recommendation for bulbs in the bathroom is IP44. The closer you get to your water source, the higher your IP level should be. Bulbs that are constantly submerged in water beyond one metre in depth should have an IP rating of IP67.
Size
When it comes to changing a lightbulb, size is vital. If you'd like to get to grips with the different lightbulb sizes, we've already made a post discussing just that!
How to change a lightbulb
Now that you've read this article, you're all set to change a lightbulb. After closely following the safety recommendations, all you need to do is grasp the broken bulb lightly but firmly, gently push upwards, and unscrew anticlockwise until the bulb is released. Then simply insert the new bulb into the socket, ensuring that it locks into place or won't screw in clockwise anymore, and restore your power. This process works identically for LED bulbs too.
What can IOS Lighting do for you?
Although we don't supply lightbulbs, nor are we electrical engineers, we can offer you an extensive supply of beautiful light fixtures for you to put your newfound skills to use on. Whether you're looking for bathroom lights, bedroom lights, or even mirrors and clocks, IOS Lighting can help. Browse our ranges today, and contact us if you see something you like!