5 Popular Lighting Ideas For Your Bedroom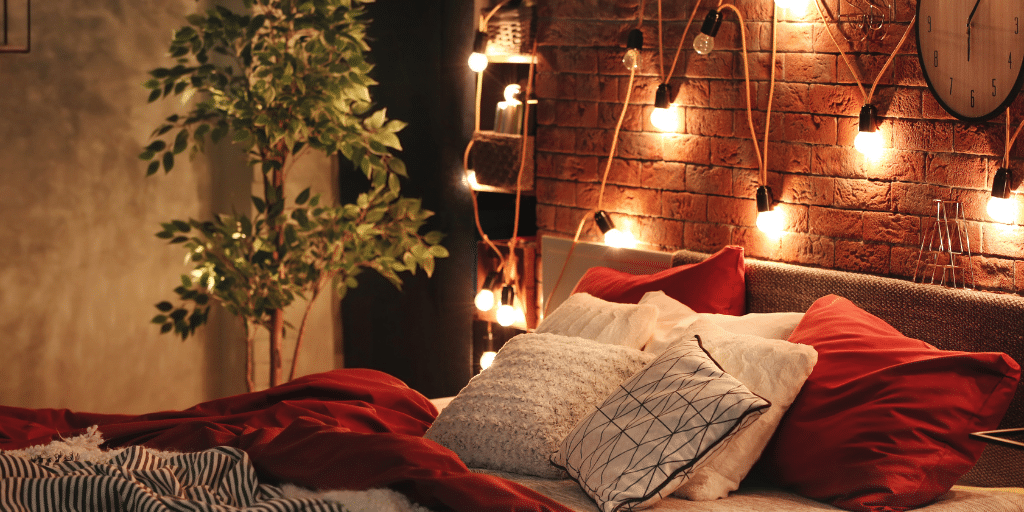 Are you looking for popular lighting ideas for your bedroom? You've come to the right place. In this month's article, we will discuss some alternative lighting methods to steer your bedroom away from ordinary pendant lighting, and towards more visually appealing options. 
LEDs
LEDs have become a popular bedroom lighting fixture in the 2020s due to their incredible flexibility. No matter how big or small your bedroom may be, strip LEDs can be manoeuvred around your walls, desk, and bed to provide full colourful coverage. 
Despite their comparative cheapness to other types of lights, they're incredibly energy-efficient and effective. A single strip of LED lights can illuminate your entire room and doesn't cost nearly as much as that level of light would from other types of lights.
Fairy Lights
Fairy lights are a very cute and decorative popular bedroom lighting method that is sure to add a cosy ambience to your bedroom.
The ways that fairy lights can be hung in your bedroom are endless. If you have a walk-in wardrobe, you could line the door frame with a single strip. Or you could coat your entire wall with them!
As they're such a popular lighting choice, there are many types of fairy lights you can buy to fit the aesthetic of your room. If you're looking for something pretty and understated, small LED bulbs are the way to go. You could also buy clusters with beads, butterflies, or balls.
With so many variations, we're sure you'll find fairy lights to suit your room.
Wall Lights
Wall lights are becoming an increasingly popular lighting option for bedrooms, as they can help to create a cosy atmosphere that recessed and pendant lights can't quite match.
Your bedroom should be the most comforting room in your house. So why not opt for wall lights?
No matter what aesthetic you have in your bedroom, we're sure to have the wall light for you. Whether you're looking for something simple and minimalistic, or even stained glass.
Interesting Light shades
The shades surrounding your bulbs are responsible for the level of light in your room and the hue of your bedroom. So, installing interesting light shades is a popular bedroom lighting decision that will take your lights, no matter how boring, to the next level.
The beauty of light shades is the level of variation they provide. You could choose a bland grey cone shade, or you could opt for iridescent glass bulbs.
Expressing yourself through your lights is one of the most popular lighting choices. Not simply what everyone else is doing.
Portable Lamps
Portable lamps are a popular lighting choice for children, but they aren't exclusive to this demographic!
There are many types of portable lighting options available. Small silicone lamps shaped like adorable animals, cordless patterned lamps, almost anything you can imagine! Your lights don't have to be connected to a wall socket. This fact is making portable lamps a very popular bedroom lighting choice.
We hope you have been inspired by this list of popular bedroom lighting choices! Have fun with your lights, and you'll see the difference that an interesting light can make!